How to Fix Error Code 0xc0000428 BSOD (Quick Guide)
Question asked by:
Travis B.
Issue:
Today I got the famous BSOD (blue screen of death) on my Windows (0xc0000428). What should I do?
Today I saw the 0xc0000428 error code while booting my PC and just a blue screen appeared.
Nothing can be done apparently -- how can I fix this error? Thank you.


If you have gone through a major update or switch from Windows 7, 8 or 8.1 to Windows 10, you can encounter an error code 0xc0000428. The details of the BSOD 0xc0000428 may differ in terms of what operating system version the computer is using. In other cases, the issue roots from the boot manager so the fixes should be applied. There are errors that you can solve on your own, but the BSOD error can often be a serious issue that needs to be fixed only by experts and as soon as possible otherwise it can even affect your data. However, you can follow the steps in this article to try fixing the error first without the need to go for expert technical support. To know more of what this code is, the error code BSOD is also known as "The digital signature for this file couldn't be verified."

In this guide, we will give you easy-to-follow steps to fix the error code. Read through the article to troubleshoot the issue at home.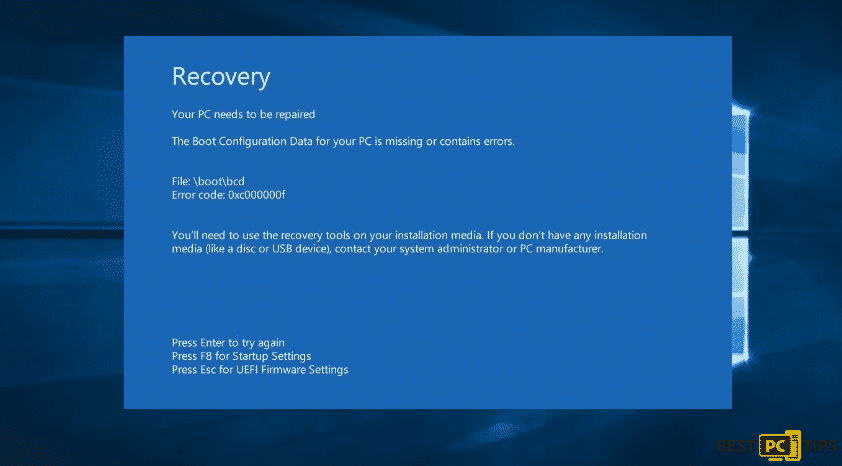 Rebuild the Boot Manager
There are a number of bugs on Windows PCs that can be fixed easily by running different preinstalled troubleshoots. To boot again your computer, launch the command prompt. Before doing so, prepare a backup space of at least 4GB of space and create a bootable Windows 10 installation media. A recovery drive can be used as well
Booting from the Windows installation disc:
Select the correct language, time, and keyboard entry
Click Repair Computer
Next is Troubleshoot
Select the Advanced and then Command Prompt
Enter the following commands and press Enter :
C: (The drive C: is the root drive, change this to your OS root drive if necessary)
cd boot
attrib bcd -s -h –r
bootrec /rebuildbcd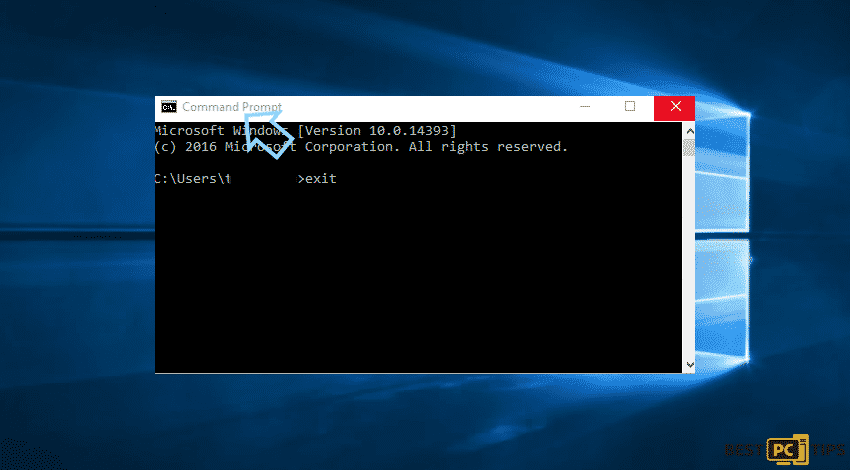 Fix Through Windows Startup
To enable the startup settings:
Select Advanced Options
Click Startup Repair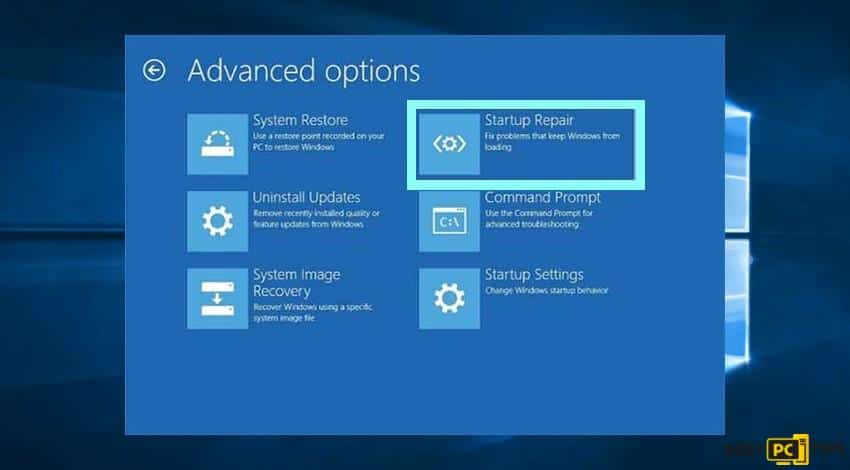 Repair Startup
Plug in the USB that has the Windows 10 installation media, and then follow these steps:
Press the power button and then press any key to start the system in the USB
Try to find the reference to the key (F2, F10, ESC, or DEL)  in case of Windows fail in detecting the hard drive
Use the arrow to the option such as Boot, Boot Options, Boot Order
To change the place from the down below of the flash drive or DVD under boot:
Use arrow keys and then hit enter
Press F10 key to save the changes
Confirm the reboot by clicking yes, it will reboot
Set the language, time, currency, keyboard, and other required settings, and then follow these:
Press Next and select Repair your computer
The System Recovery Options will open then select Windows installation drive and Next
Select the Startup Repair option and wait for completion
Disable Digital Signature
The purpose of disabling the driver signing is to be able to install drivers that weren't officially signed by Microsoft. To do so, follow the steps below:
Press the Windows key and "I" on the keyboard together
Click the Update & Security and choose Recovery option
Locate Advanced startup
Hit the Restart Now button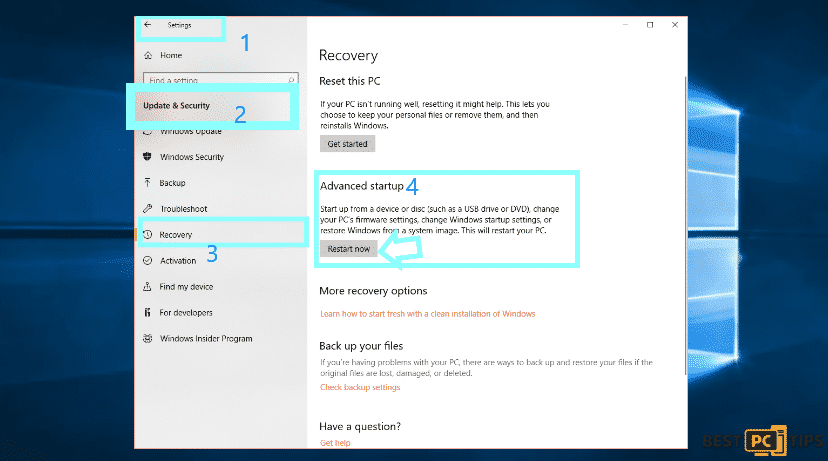 When the system reboots, select the Troubleshoot option:
Click Advanced and select Startup Settings.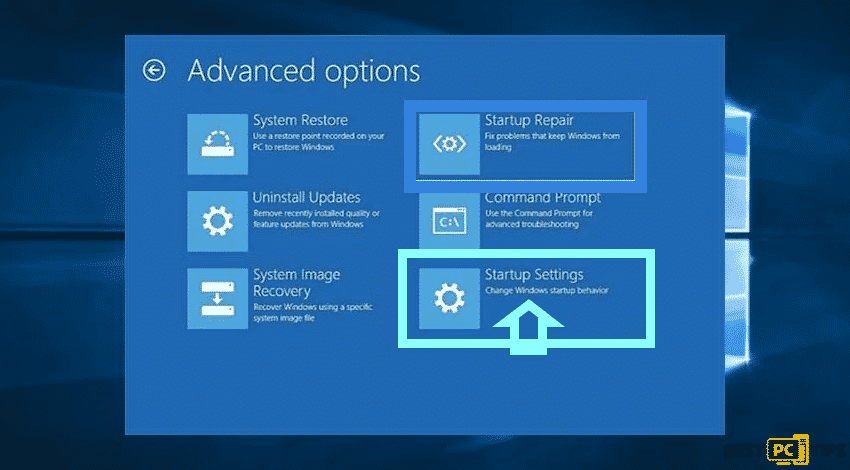 To finally disable the driver signature enforcement, Press F7 as it is the number 7 on the list.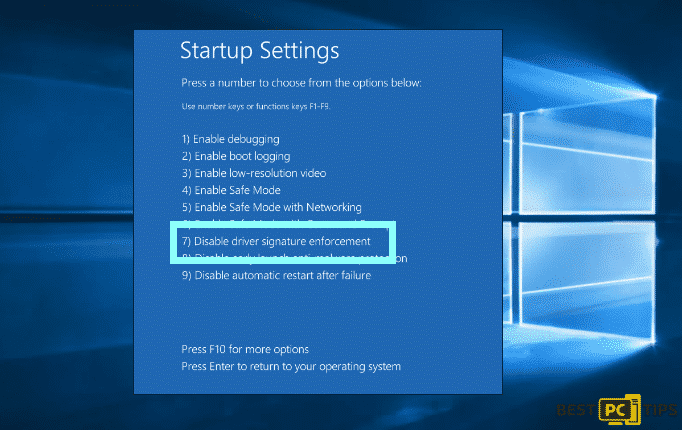 By pressing F7, your computer will boot with disabled driver signature enforcement or by clicking on the options and press enter. Because of this, you will be able to install unsigned drivers. However, the next time you restart your computer, driver signature enforcement will be disabled. To enable it, go to the Startup Settings again.
Prevent Other Issues and Stay Anonymous
After doing these steps, your computer should boot successfully and 0xc0000428 error should be removed. If the error was resolved, we still recommend you to remove unsigned files which belong to doubtful parties. Even though these programs are not malicious of any kind, it might trigger BSOD error. Moreover, you can install an effective tool to manage registries, system files, and other important settings to keep your operating system in good functionality. If you are decided to install one, we recommend you install Malwarebytes.
To stay anonymous from GOV and hacker tracking and to keep your information secure, you may opt to install a VPN to be connected on a private server rather than your internet service provider (ISP). We recommend you use NordVPN – they are one of the largest VPN privacy providers in the world.
Offer
Malwarebytes — is a patented PC & MAC repair tool & the only program of its kind. It's not only a registry fix, PC optimizer, or an anti-virus scanner – The Malwarebytes technology reverses the damage done to Windows or Mac, eliminating the need for time-consuming reinstallations & costly technician bills.
It is available for FREE. Although, for some more advanced features & 100% effective fixes you may need to purchase a full license.
If your 0xc0000428 issue is still not fixed — don't hesitate and contact us via email, or a Facebook messenger (the blue 'bubble' on the bottom-right of your screen).
Download BSOD Fix