How to Remove IP Address From xResolver? (Free Guide)
Question asked by:
Jane T.
Issue:
How to Remove IP Address From xResolver ?
Hi! I'm a gamer and I experienced being dropped from the game that led me to lose it. My friends told me that my IP is possibly on xResolver. Do you know ways on how to avoid and remove my IP from their list? It's really annoying.
How Does It Work?
The whole scheme works like this:
Xresolver sells "OctoSniff" packages to gamers while creating a compilation of Xbox Live players' information. Included in this information are the IP addresses of every gamer who is inside their system. And with that said, they will offer a "boot" or "blacklist" from their database to the gamers without the assurance that the information will not be leaked after the purchase.
Though their scheme seems to be dangerous and complicated, you can now calm down because it is simple and it is not that effective. Not because you are playing games using Xbox Live, it means that you are also in their system because to acquire an IP of the player, somebody who has an OctoSniff packet installed needs to join the game with the cheater. And then when that happens, the IP and the Gamertag will be logged directly into the database. Once the data is entered, someone can now access it and send DDoS attacks to its owner and drop them from the game.
Though their process is not that complicated, it is still annoying for those whose games are being affected.
We can say that those who use dynamic IPs are safe from the scheme of this site because the information is pulled directly from the current IP that the target player is using and frequent changes will render this data useless. With that said, the information that they have can be mismatched and outdated. But the sad part is, most gamers or users use static IP that can never be changed.
What Makes Xresolver Harmful?
Xresolver developers are correct when they said that the information they offer are already publicly available since IP address is public information and all of the sites that you visit can read it. But still, using this type of data for cheating and reckless acts that lead to a negative gaming experience to others is still not right/legal. It damages Microsoft's service reputation and affects users' gaming experience negatively. 
Xresolver states they shouldn't be responsible for the services that they provide, instead, it should be the gamers who should be responsible for using the data accordingly.
However, it is still not right to serve the players a list of IP addresses and gamer tag combinations that can also be used against them.
The good news is the website was previously taken down because of suspicious activity. But you should still be careful because there are hundreds of similar sites with the same scheme that seeks to negatively influence the internet and gamers' fun for their own financial gain.
Luckily, there are several steps you can take to remove Xresolver related issues without paying for the "blacklist" service.
Methods to Remove Your IP From xResolver & xResolver IP tracking
You don't have to pay Xresolver for your IP to be blacklisted. If you didn't use their service you can save your IP and Gamertag from being linked together. But it doesn't save you from the possibility that your IP can be leaked again once you join a game with a stranger.
And with that being said, we will provide you with ways on how to blacklist your IP without paying Xresolver. Just follow the ways below so you can avoid being booted from your game and avoid getting included in their list in the future.
Method 1. Use a VPN
A Virtual Private Network like NordVPN, will allow you to establish a connection with a remote server without displaying your original IP address. With VPN, you can also change your IP location and choose a server that works best for you. With that said, you can avoid the leakage of your original IP.
Method 2. Change your IP address Through Contacting your ISP
If you are using a static IP address, you will be able to change it by calling your internet service provider. On the other hand, if your IP address is dynamic, you can simply change it by restarting your router several times or by going to the Administrative Console given by your internet provider.

Note: Most Administrative Console access is pasted at the back of your router under ("GUI address").
Method 3. Avoid Playing Games With Strangers
One of the IP leakage reasons is that when players play with random people they don't personally know so we recommend you try your best to avoid playing games with strangers.
Method 4. Eliminate Suspicious Gamers from Your Friends List
You should remember that if one person on your friend list has OctoSniff, that person will be able to leak your IP address and even your friends' so if you have a suspicious friend from your list, don't think twice, remove them immediately.
Method 5. Manually Remove your IP from Xresolver Official Website
One thing you can do is to manually delete your IP address is by using the Data Removal Form on Xresolver's official website. You can do this by simply going to Xresolver legal. If you are on their site, filling up the form will remove you from their list. But you shouldn't neglect other methods so you can prevent getting listed in the future.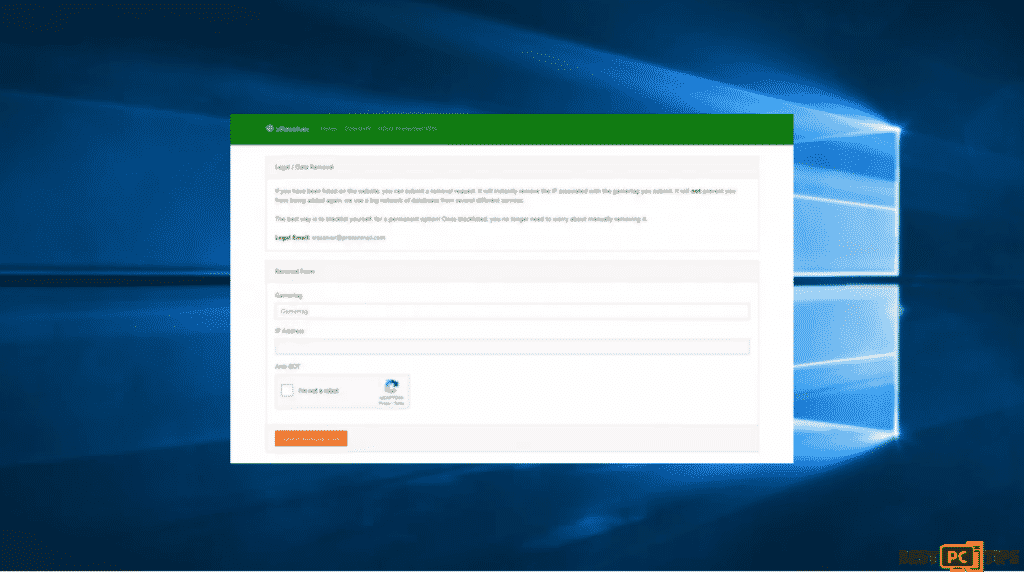 Final Words
The internet is still full of dark schemes and you might encounter serious problems aside from DDoS attacks and game cheaters if you are not careful. Cybercriminals are putting much effort into cultivating ways to get your personal data and use them for their sake. With that said, they can do many things with your personal data, especially with the financial ones so we recommend that you use other tools for extra computer protection.
To make sure that your PC is safe from adware and viruses, we recommend downloading iolo System Mechanic. This app can help you scan and remove viruses and malware from your PC.
And if you want to effectively protect your home network from IP leaks, DDoS or unlawful scrutiny – always use a VPN like NordVPN.
Offer
NordVPN is one of the world's biggest VPN (virtual private network). Having a VPN is essential for your online browsing security and anonimity.
It will encrypt all your browsing data and history so that hackers and even the government can't track you.
VPN will also unblock any geographically or government restricted websites.
It will also shield you from the websites like xResolver.
Protect Your Online Privacy With NordVPN