Irfk Ransomware-Virus Removal Guide (6 Steps)
Question asked by:
Scott Hall
Issue:
I can't open my files! Please HELP!!
All of my files are locked and I can't open them! All of them has a weird name with "irfk". Please help me I have important documents in my computer.
Remove Viruses Now
iolo System Mechanic will optimize your current system & remove Irfk Ransomware. Purchase of a full license may be required for 100% fix.
The Irfk ransomware is one of the most bothersome ransomware that is tormenting many Windows Operating System users. Infected systems are infected by locking files and data, and a ransom note is left demanding money from victims.
The Irfk ransomware attacks a computer by encrypting its files, making it impossible for users to open and utilize them. It damages files and data on the infected machine and connected external storage devices and cloud storage. The Irfk ransomware reduces the infected system's efficiency and security, making it more susceptible to other malware.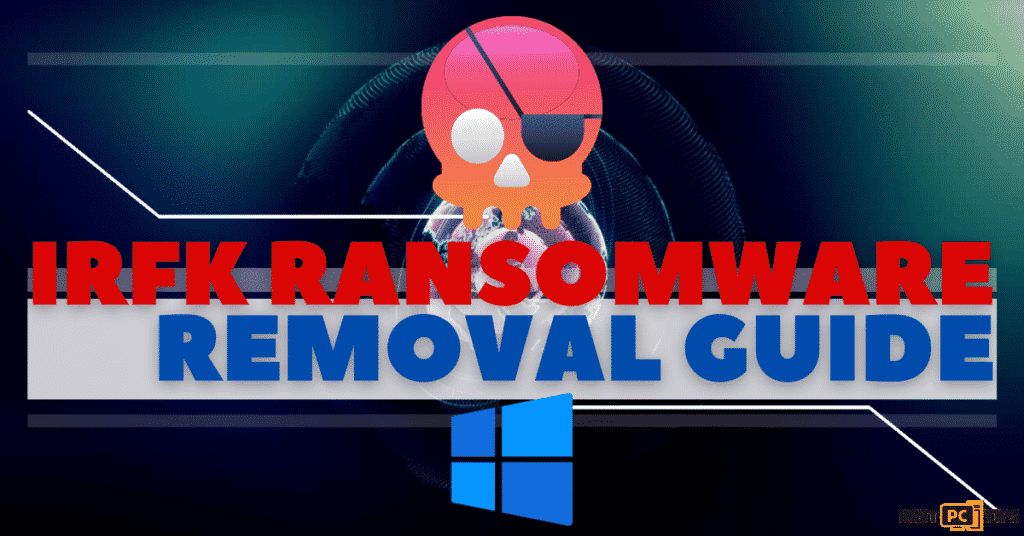 Irfk Ransomware Ransom Note
The cybercriminals behind the Irfk Ransomware demands payment for you to restore your files. The ransom letter can be found in a text file called "_readme.txt" that the victims can access in Notepad.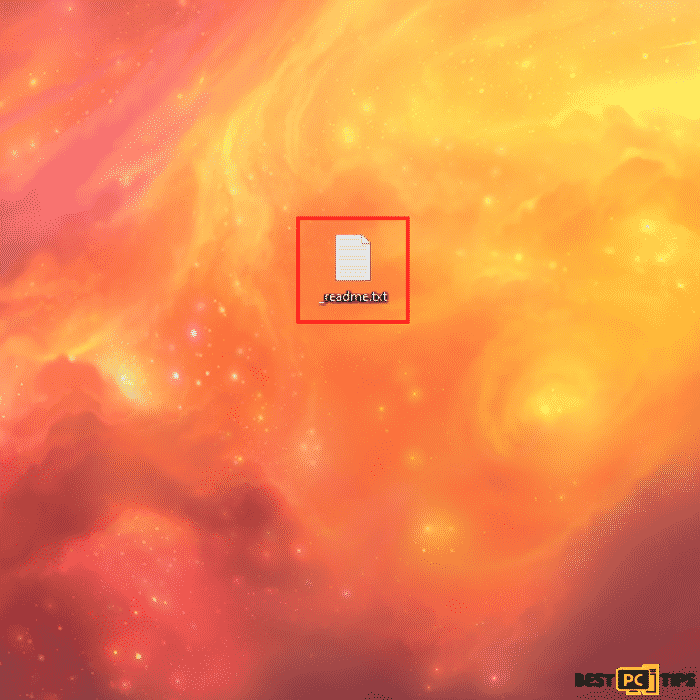 The message's contents are typical of most ransomware. If you want your data back, the Irfk Ransomware's developers will send you an email asking you to contact them. The email will include instructions on how to contact them. A snapshot of that message can be found below.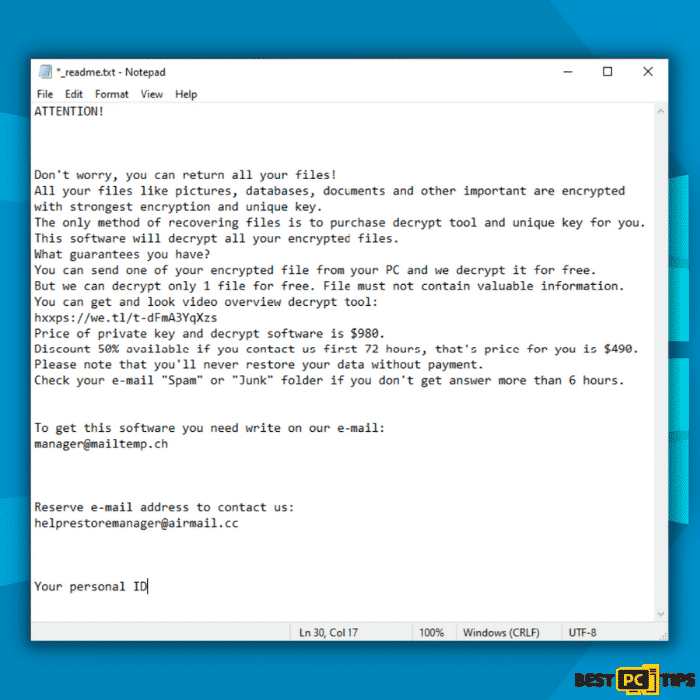 "ATTENTION!

Don't worry, you can return all your files!

All your files like pictures, databases, documents and other important are encrypted with strongest encryption and unique key.

The only method of recovering files is to purchase decrypt tool and unique key for you.

This software will decrypt all your encrypted files.

What guarantees you have?

You can send one of your encrypted file from your PC and we decrypt it for free.

But we can decrypt only 1 file for free. File must not contain valuable information.

You can get and look video overview decrypt tool:

hxxps://we.tl/t-dFmA3YqXzs

Price of private key and decrypt software is $980.

Discount 50% available if you contact us first 72 hours, that's price for you is $490.

Please note that you'll never restore your data without payment.

Check your e-mail "Spam" or "Junk" folder if you don't get answer more than 6 hours.

To get this software you need write on our e-mail:

Reserve e-mail address to contact us:

Your personal ID".
Infected Files Sample
Remove Viruses Now
iolo System Mechanic will optimize your current system & remove Irfk Ransomware. Purchase of a full license may be required for 100% fix.
Here are examples of how infected and encrypted files would look like: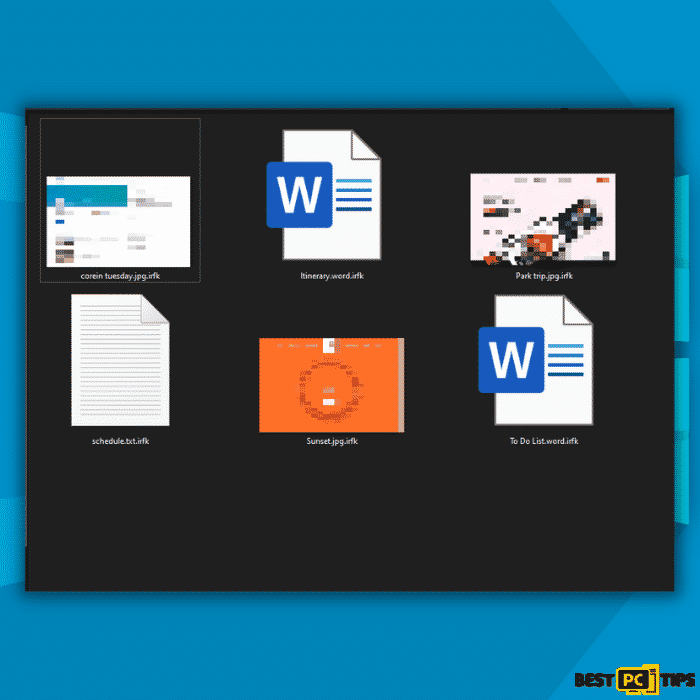 The cyber thieves' letter may reassure the victim that they can regain access to their information, but security experts advise against contacting them. To decrypt more than three files for free is exactly what they indicated in the mail. But to decode and utilize the remainder of your data, they would require payment.
The developers of Irfk Ransomware, like any other cybercriminals, should not be trusted. When a victim pays, there is no assurance that they will give the instructions and tools needed to decrypt their files.
Irfk Ransomware Summary
Remove Viruses Now
iolo System Mechanic will optimize your current system & remove Irfk Ransomware. Purchase of a full license may be required for 100% fix.
| | |
| --- | --- |
| THREAT NAME | Irfk Ransomware |
| Type of Threat | Files Encryptor, Cryptocurrency Virus, Ransomware |
| Encrypted Files Extension | .irfk |
| Name of Ransom Note | _readme.txt |
| Amount of Ransom | $980 for the full amount, but as per the ransom note, victims who contact them within 72 hours will get a 50% discount lowering the amount to $490 dollars. |
| Contact Details of Cyber Criminal | [email protected] and [email protected] |
| Threat Symptoms and Potential Damage | Users will not be able to open the files on their system (locked files), file extensions will be replaced to .irfk. Users will be left with a ransom note by the ransomware developer and will be demanded to pay a certain amount to recover the victim's files. |
| Method of Distribution | Malicious ads from untrustworthy websites, downloaded torrent files from unreliable websites, Macros or Infected email attachments |
| Suggested Removal Tool | If you think there is an infection in your system but have not yet seen the symptoms in your system, cyber security experts recommend using iolo System Mechanic to perform holistic scan on your computer. |
The Best Way (Automatic) to Get Rid of Irfk Ransomware
To minimize the harm that Irfk Ransomware can do, you must use the correct tools to find and remove it from your computer. To further weaken the system, additional viruses may infect it and run their destructive scripts. Early detection of the Irfk Ransomware in a machine can prevent its spread and save the user from the headache of uninstalling and regaining access to their files.
iolo System Mechanic is one of the technologies that cyber security professionals recommend. This tool may do a comprehensive system scan and alert the user to any existing infections and other possible risks.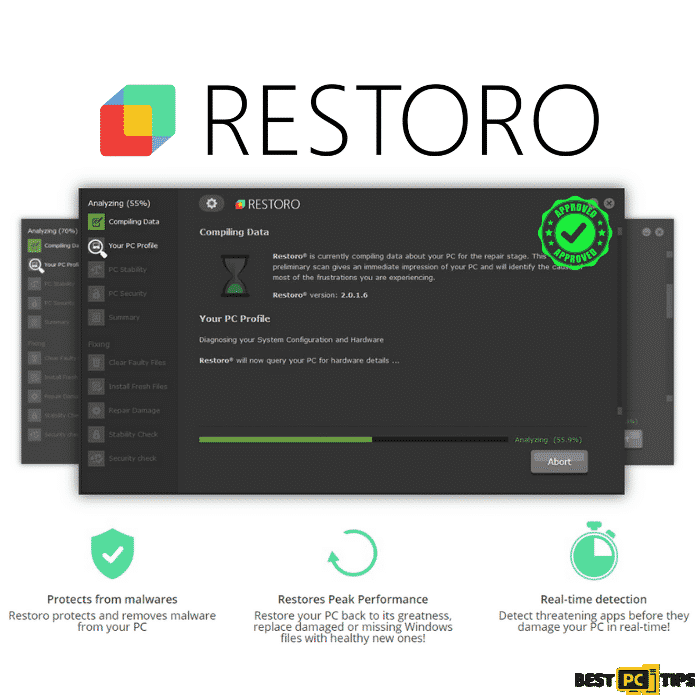 Irfk Ransomware Manual Removal Instructions
If you happen to notice that your computer is infected with the Irfk Ransomware, you have to make sure that it does not spread to other devices in your network. To do this, you have to isolate the infected device away from the other devices that are connected to your computer and the network
#1: Disconnect From Your Network
Remove Viruses Now
iolo System Mechanic will optimize your current system & remove Irfk Ransomware. Purchase of a full license may be required for 100% fix.
Step 1: Hold down the "Windows" + "R" keys and type in "ncpa.cpl" in the run command line and click "OK"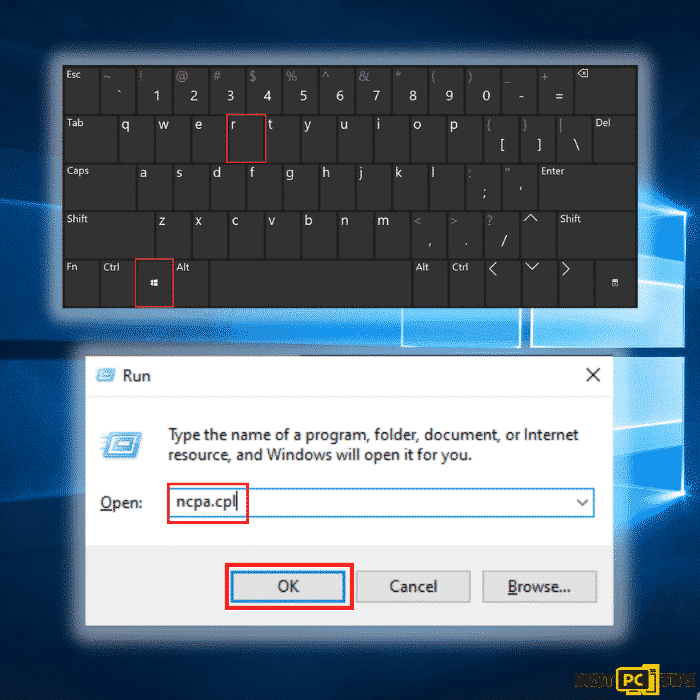 Step 2: Click on the network that you are connected to and click on "Disable this network"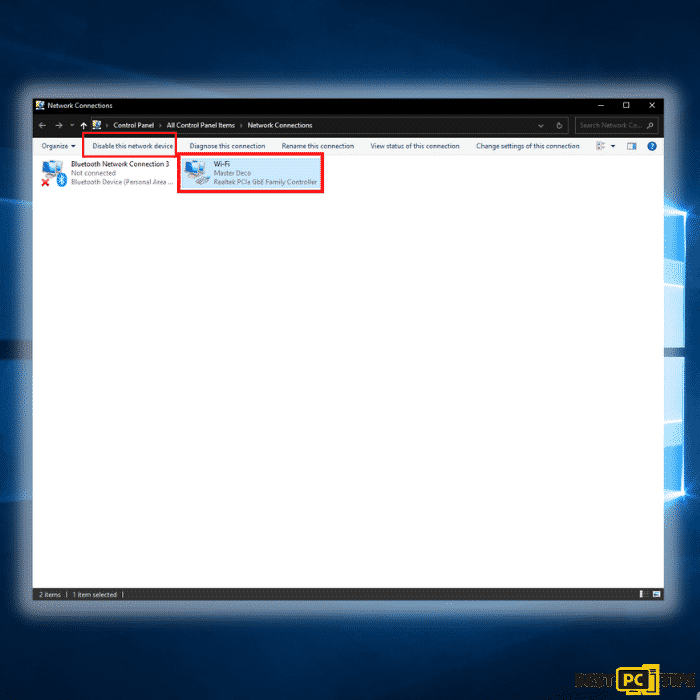 #2: Unplug All Connected Storage Devices from the Computer
Remove Viruses Now
iolo System Mechanic will optimize your current system & remove Irfk Ransomware. Purchase of a full license may be required for 100% fix.
The Irfk Ransomware, as previously stated, encrypts data and infiltrates all storage devices attached to the computer. As a result, all external storage such as external hard drives, flash drives, and other similar devices should be detached as soon as possible. To avoid data corruption, we strongly encourage you to remove each device before disconnecting.
Step 1: Open "This PC" and locate all the connected storage devices. Right-click on it and click "Eject"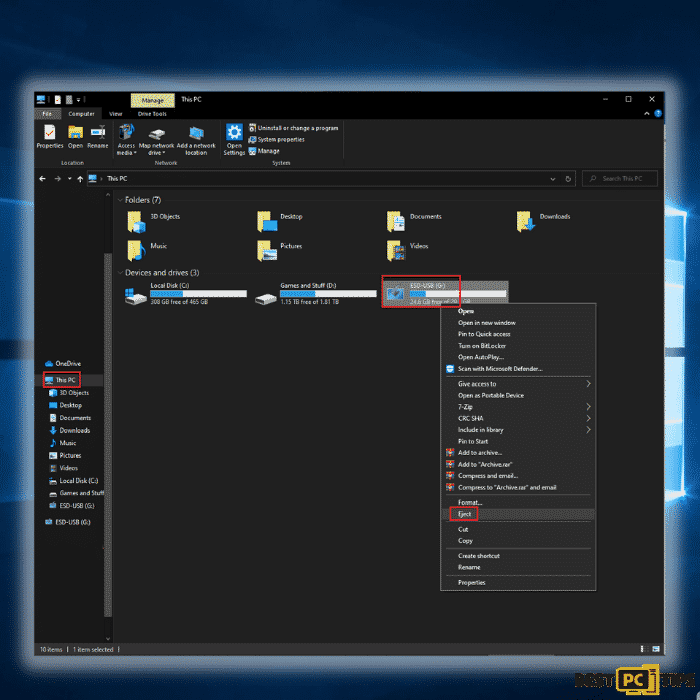 #3: Disconnect from Your Cloud Storage Devices
Some ransomware variants may be able to take control of software that manages data saved in your cloud storage. As a result, internet attacks like Irfk Ransomware could infect the information. As a result, you should log out of any cloud storage accounts you have in your browsers and other software. You should also uninstall the cloud-management application installed on your computer until the threat has been eliminated.
#4: Look for a Decryption Tool for the Files Infected by Irfk Ransomware
Remove Viruses Now
iolo System Mechanic will optimize your current system & remove Irfk Ransomware. Purchase of a full license may be required for 100% fix.
Most ransomware-type attacks use incredibly advanced encryption methods, and only the developer can restore the encrypted data. This is due to the fact that decryption needs the usage of a unique key that is only generated during the encryption process. It's difficult to recover data without the key. Instead of using the infected system as a host, fraudsters would usually store the restoration keys on a remote server.
Phobos, Dharma and other varieties of ransomware attacks are almost perfect, making data recovery impossible without the cooperation of the developers. Nevertheless, there are many ransomware viruses that are poorly created and full of loopholes. As a result, if ransomware infects your machine, you should look for available decryption programs that can effectively remove it from your computer.
It can be difficult to find the right decryption tool. As a result, we highly suggest that you use the No More Ransom Project. There is a "Decryption Tools" section on the website with a search bar. You can enter the name of the ransomware to see a list of all available decrypting tools for Irfk Ransomware.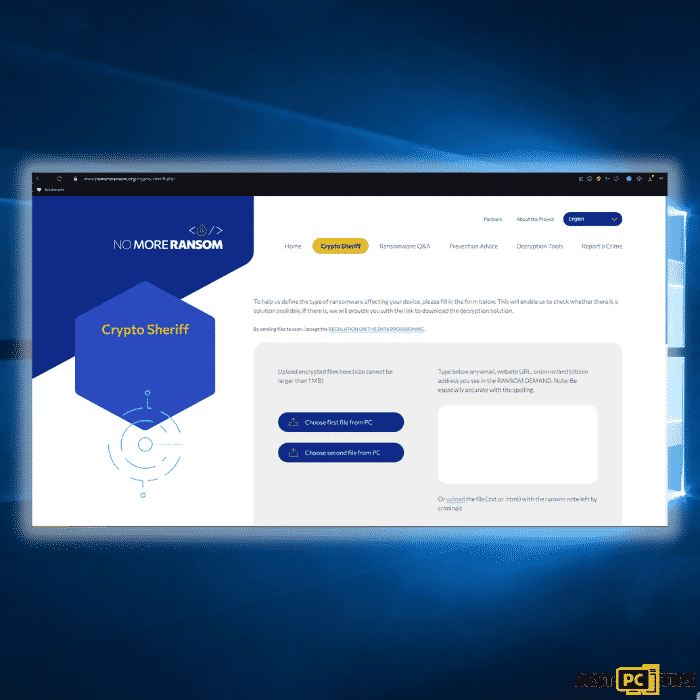 #5: Keep Your Files and Data Safe
If you were able to successfully remove the Irfk Ransomware from your computer, now is the time to back up your files to cloud storage or a removable storage device. In this way, in case your computer gets infected again then you will have all your files stored in a safe place. However, you have to remember that you should not plug your storage device or log in to your cloud storage while your computer has not yet been fully rid of any threats.
#6: Data Backup Options
Remove Viruses Now
iolo System Mechanic will optimize your current system & remove Irfk Ransomware. Purchase of a full license may be required for 100% fix.
External Storage Devices – Using an external storage device and keeping it unplugged is one of the most reliable backup techniques. Please copy all your important files and data to an external storage device such as an external SSD/HDD or flash drive, then unplug it and keep it in a dry, cool location away from the sun. This strategy, however, is inefficient because data backups and upgrades must be performed frequently.
Cloud Storage Services – We recommend keeping a backup of your files with Microsoft OneDrive. OneDrive allows you to store important files and data in the cloud and sync files between your computer and mobile devices. You can also access and edit files from any Windows device and other devices with OneDrive. OneDrive allows you to save, share, and preview files, as well as see your download history, rename, move and delete files, and create new folders.
On your PC, you can make a backup of your most important folders and files. The File versioning feature will also let you keep older versions of files for up to 30 days. OneDrive has a recycle bin where you can store the deleted files for a limited period.
OneDrive offers 5 GB of free storage with subscription-based storage choices of 100 GB, 1 TB, and 6 TB available. These storage plans are available either as a standalone purchase or as part of an Office 365 subscription.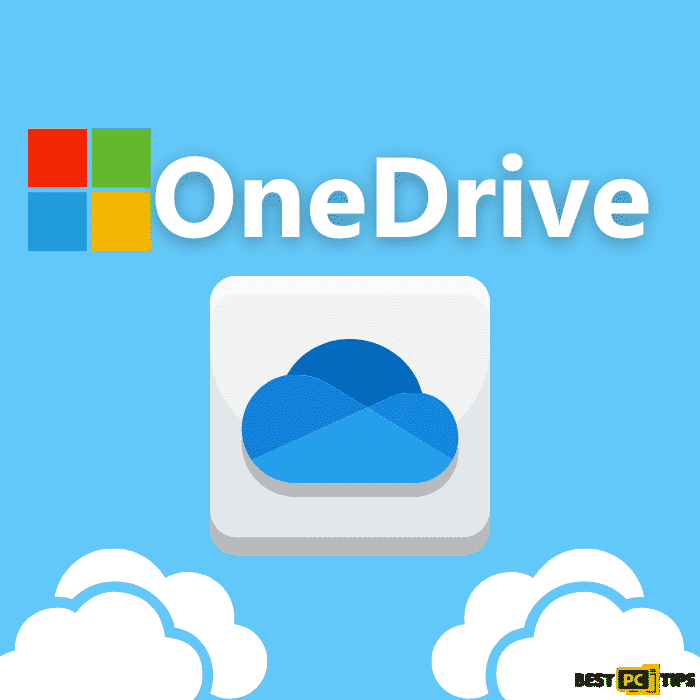 Final Words
Because decryption methods for the Irfk Ransomware Virus have yet to be developed, everyone should be extremely cautious while using the web, downloading files, and installing programs. Installing a reputable anti-virus or anti-malware software, such as iolo System Mechanic, is the most efficient way to avoid becoming affected by any virus or ransomware.
Users will be warned of any questionable activity in the system, which will be blocked until they decide whether to let it on the system.
Offer
iolo System Mechanic® — is a patented PC & MAC repair tool & the only program of its kind. Not only it's a registry fix, PC optimizer, or an anti-virus/malware remover – The iolo System Mechanic® technology reverses the damage done to Windows or Mac, eliminating the need for time-consuming reinstallations & costly technician bills.
It is available for FREE. Although, for some more advanced features & 100% effective fixes you may need to purchase a full license.
If the Irfk Ransomware is still not removed — don't hesitate and contact us via email, or a Facebook messenger (the blue 'bubble' on the bottom-right of your screen).
Auto-Remove Irfk Ransomware