The Seto Virus Ransomware: How to Recover Encrypted Files & Remove Seto Virus (FREE Guide)
Question asked by:
Amy S.
Issue:
My files are encrypted in .seto and I can't open them...
All my files in my documents folder are now with .seto extension and I can't remove it or open the files... How can I fix this?
Thanks.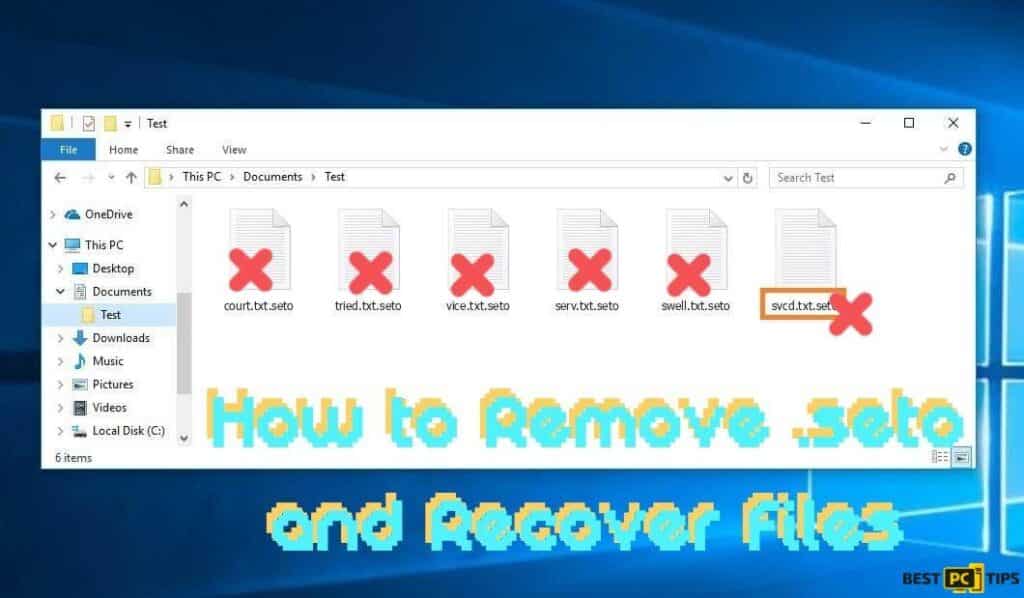 An Overview of the Problem
Seto ransomware is one of the many malicious programs that belong to the Djvu family. The Seto ransomware are added into one's computer through emails, Trojans, unofficial software updates and activation tools, or dubious file/software download channels. The Seto virus is a Ransomware, Crypto Virus, Files locker type. When your computer is infected with the Seto virus, it limits you to multiple functions including opening files with "my.docx.locked" or blocks your access to your files. The extension .seto will be added after the file name. For example, "sample.jpg" becomes "sample.jpg.seto"
Moreover, there are other things that the virus does to your computer when infected. These changes include modifications to Windows registry, internet connection options, system certificates, permissions, and kernel functions. It also changes the "shadow volume copies" which makes automatic recovery settings difficult to run.
Types of Seto Encryption: Symmetric vs Asymmetric Encryption
Encryption is essential in keeping private information secure which includes your personally identifiable information (PII), financial data, intellectual property, and other sensitive data. The two types of encryption: symmetric and asymmetric both help in securing data, but the process is different.
In Symmetric encryption, one key is needed by all communicating parties to encrypt and decrypt the data. On the other hand, asymmetric involves using multiple keys to encrypt and decrypt data. Also, Symmetric encryption has a secret key which hackers have access to it, while asymmetric uses a public key.
Removal Process of the Problem (Seto Ransomware) for Seamless File Recovery
For the files to be fully recovered, you need to remove the Seto ransomware in your computer's system. There is a way for the Seto virus to apply various settings changes in the system to make itself boot at startup. With that said, it is necessary to delete the malware in the system before retrieving the data in order to start clean with the files and system.
For easy removal, there are a lot of malware removal tools in the line, which could help you with the problem — Malwarebytes is one of them. However, Seto uses numerous courses to infiltrate vulnerable computer systems. Once you have installed an anti-malware, start a full system scan. Another tip, it is best to remove the virus while your computer is on a safe mode with networking.
To activate safe mode, here are a few steps to follow:
Go to settings. To do so, right-click on Start button
Find the Update & Security menu and then click Recovery
You will see options whether to reset this PC or restart now. Click Restart now. After clicking the restart button, your computer will automatically restart

When your computer runs again after the restart, there will be options of what to do next you will see Choose an option on the screen.
Go to Troubleshoot
Click Advanced options
Select the Startup Settings
Hit the Restart button
Press F5 in order to activate Safe Mode with Networking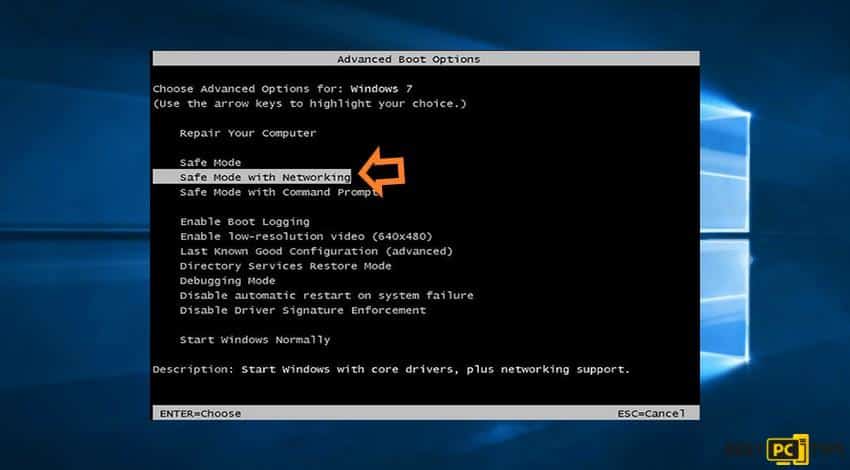 Using Data Recovery Pro to recover files
After you are done with the steps above, you are now ready to recover the files encrypted with ransomware. You will need file recovery software to help in the process in an easier way. First, download the Data Recovery Pro and install it on your computer. Now that you are all set for the recovery method, follow these steps:
Open the software by hitting double click on the Data Recovery Pro shortcut
Perform a scan by selecting the full scan option and then click Start
If the scan is complete, you will see a list of files. Select the files you want to recover
With the files in checkmarks, you can now recover them by clicking the Recover button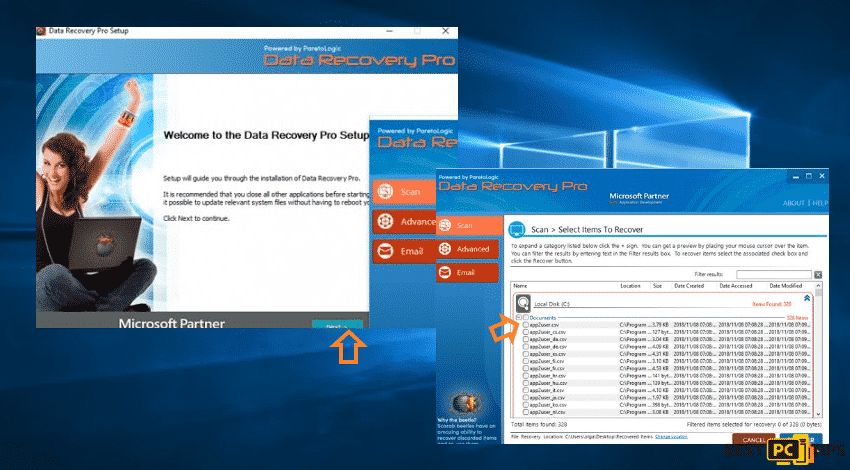 Using ShadowExplorer to Recover Files
Since the Seto ransomware is a virus whose purpose is to delete the files stored in the Windows backup system, you will need to fix it to recover encrypted files set by Seto ransomware. In order to do this, you have to download and install the ShadowExplorer.
Follow these steps to recover your files:
Install and setup the ShadowExplorer
Open the application
In the Window panel, you will see a list of files
Select a file that you want to recover
Right-click to enable the export option. Click export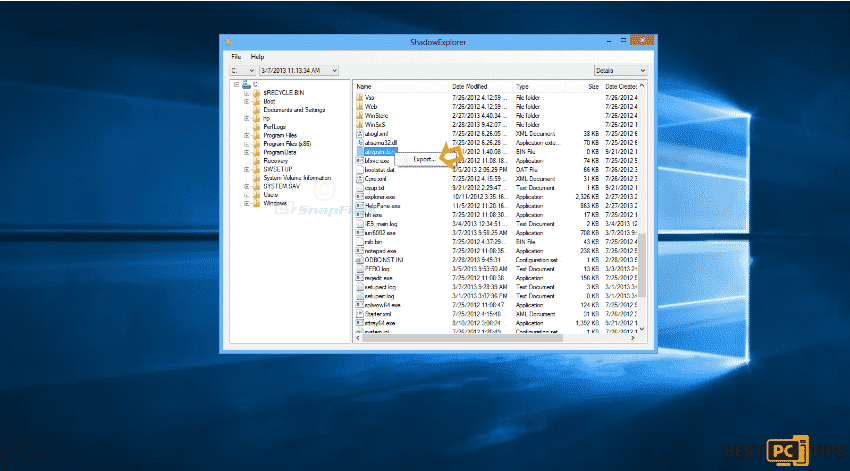 Use the Windows Previous Versions Feature
If you are thinking of other methods to recover lost files, there is one more. Just restore previous versions of the folder you lost to the SETO virus.
Go to the folder in a window panel
Right-click the folder or file that you want to restore (The list will include files saved on a backup)
Click previous version before you select the "Restore" button
Protect and Backup Your Files
To prevent the occurrence of the same issue or to prevent your files to be completely removed and hacked, keep in mind to backup files for later use. Computer users can suffer from data losses due to cyber infections or their own faulty doings. Ransomware can encrypt and hold files hostage. It is best to take precautions and safety measures. It comes in handy when malware strikes out of nowhere.
That's why we always recommend having reliable anti-malware software such as Malwarebytes installed.
Offer
Malwarebytes — is a patented PC & MAC repair tool & the only program of its kind. It's not only a registry fix, PC optimizer, or an anti-virus scanner – The Malwarebytes technology reverses the damage done to Windows or Mac, eliminating the need for time-consuming reinstallations & costly technician bills.
It is available for FREE. Although, for some more advanced features & 100% effective fixes you may need to purchase a full license.
If your SETO ransomware issue is still not fixed — don't hesitate and contact us via email, or a Facebook messenger (the blue 'bubble' on the bottom-right of your screen).
Download SETO Fix